Gypsum Board
Gypsum Board
| | |
| --- | --- |
| Model NO.: | TOP001 |
| Brand: | Gyptop/OEM |
| Size: | 1220-2440-12MM |
| FOB Price: | USD 3.05/PC |
| Min Order: | 4000PCS |
| Main Materials: | Gypsum powder,Paper |
| Package: | Bulk |
| Quality Standard: | ISO9001-2008,ASTM,CE |
GYPTOP® Gypsum board, commonly known as drywall, is the technical product name used by manufacturers for a specific board with a gypsum core and a paper facing.
Compared with other materials, it owns strong fire resistance. Gypsum products also provide sound control, economy, versatility, quality, environmental and convenience.
GYPTOP® Board taking Germany production and foaming technology to make the board more light but better strong. We work on gypsum board fields for over 20 years and stick to the spirit of "Quality First, Credit First, Sincere Dedication". We have very strict holistic control quality, plant clean, product package, delivery time and so on.
GYPTOP® Board is the premier building material for wall, ceiling, and partition systems in residential, institutional, and commercial structures and is designed to provide a monolithic surface when joints and fastener heads are covered with a joint treatment system.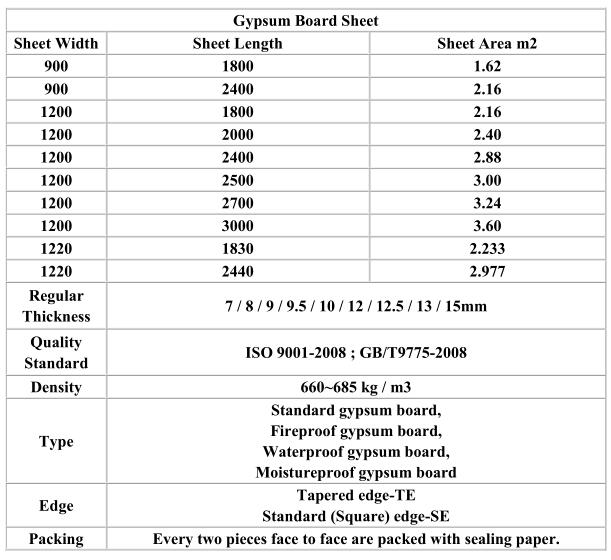 Container
Size 
Load Qty
Total Sqm
1
1200X2700X7mm
580pcs
3950M2
1200X3000X7mm
580pcs
2
1200X2700X8mm
500pcs
3500M2
1200X3000X8mm
500pcs
3
1200X2700X9mm
450pcs
3100M2
1200X3000X9mm
450pcs
4
1200X2700X9.5mm
440pcs
3000M2
1200X3000X9.5mm
440pcs
5
1200X2700X10mm
430pcs
2950M2
1200X3000X10mm
430pcs
6
1200X2700X12mm
350pcs
2500M2
1200X3000X12mm
350pcs